Huawei's tablets have always launched under the MediaPad name but that may be changing soon. The Chinese giant has filed trademark applications for "Huawei MatePad" at the European Union Intellectual Property Office (EUIPO).
Does this mean it plans to retire the MediaPad line? Probably not. We believe the MatePad will be its line of flagship tablets that will come with the same chipset as the one found in its flagship phone for the year.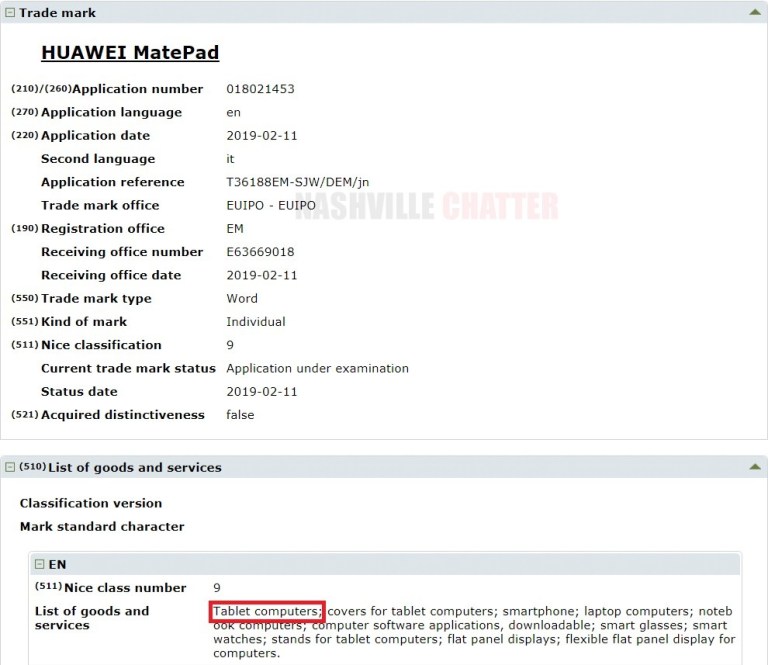 Last year's MediaPad M5 Pro (10-inches) which is the top of the M5-series is powered by the Kirin 960 chipset, the same processor inside the 2016 Huawei Mate 9 and 2017's Huawei P10 and P10 Plus. Samsung too did something similar with its Galaxy Tab S4 10.5 which it released last year. Instead of the flagship Snapdragon 845 or Exynos 9810 processor, it is powered by the Snapdragon 835 from 2017. Compare that to Apple's 2018 iPad Pro models which even have a more powerful processor than the one in its phones.
So we believe the Huawei MatePad will come with the latest specs that will see it as a worthy competitor to other flagship tablets while the MediaPad series will target the mid-range and entry-level categories.
READ MORE: Huawei's new patent shows AR glasses that connects with a smartwatch
There is no info on when we will see the first MatePad-branded tablet but seeing as the MediaPad M5 Pro was announced back in April, a successor should already be in development.
(Source)